Events
Adler Theatre
November through March
Granted, if you're reading this hot off the electronic presses, we haven't even entered the holiday season yet. But as your significant other may have already reminded you, it's never too early to start thinking about Valentine's Day gifts, and Davenport's Adler Theatre will deliver a phenomenal one in 2017: a touring production of the musical smash 42nd Street.
Winner of the 1981 Tony Award for Best Musical and the 2001 Tony for Best Revival of a Musical, this glorious, tap-filled entertainment about a Broadway ingénue's rise to stardom ran a collective, astounding 5,010 performances on the Great White Way, and its score boasts some of the most beloved songs of all time, among them "Lullaby of Broadway," "I Only Have Eyes for You," "Shuffle Off to Buffalo," and "We're in the Money." Yet while 42nd Street won't arrive until February 13, don't be surprised if you hear Adler employees whistling that latter tune all season long. Given its sensational wintertime lineup, how could the venue not be in the money?
Those who enjoy celebrating the holidays with concerts, musical comedies, and dance spectaculars can actually set up camp at the Adler and not feel the need to travel further. (That's a figure of speech; please do not literally set up camp at the Adler.) On November 28, the season begins with John Berry: O Holy Night – Celebrating 20 Years of Christmas, a special event with the platinum-selling country musician that will feature hits including "Your Love Amazes Me," "Kiss Me in the Car," and "She's Taken a Shine" in the first act, and Berry's heartfelt takes on Christmas standards in the second.
More country stars will sparkle at the Adler on December 13 in Home Free's A Country Christmas, in which the five-man a cappella ensemble will treat crowds to holiday favorites and brand-new numbers, demonstrating why the group's singular talents earned Home Free a first-place victory in season four of NBC's The Sing-Off. And if you're tickled by the tickling of ivories, you won't want to miss the Adler's December 17 event Jim McDonough: Holiday Grande 2016, with the International Steinway Artist and Iowa native performing a Camp Courageous benefit concert alongside a 14-piece orchestra and a gifted troupe of professional singers and dancers.
The Quad Cities' own professional dancers – the fierce talents of Ballet Quad Cities – will return to the Adler this winter in the company's annual stagings of Tchiakovsky's holiday classic The Nutcracker, with the ballet's two performances on December 10 sure to exhilarate audiences with seasonal magic courtesy of choreographer Courtney Lyon and live music by Orchestra Iowa. Stage magic with a slapstick bent, meanwhile, arrives in the November 29 touring production of Broadway's Elf, the family musical based on the beloved Will Ferrell comedy, and likely your one chance this winter to hear dozens of voices harmonizing to a tune titled "Sparklejollytwinklejingley."
Yet beyond 42nd Street, there are other non-holiday treats lined up for the Adler's winter. On December 3, the Quad City Symphony Orchestra presents its third Masterworks program of the 2016-17 season in Water Music, with Mark Russell Smith conducting a repertoire that features Handel's Water Music Suite, Schumann's Symphony No. 3: Rhenisch, and, with Hannah Holman as the piece's soloist, Elgar's Cello Concerto, Op. 85. (The concert will also be performed at Augustana College's Centennial Hall on December 4.)
Another Tony-winning Best Musical, and the recipient of seven additional Tonys, arrives on January 25 in the touring presentation Once, the unconventional stage romance, based on the Oscar-winning 2007 movie, that finds the entire cast playing its own musical instruments. Based on the popular Nickelodeon series, PAW Patrol Live: Race to the Rescue (January 24) will find colorful characters solving mysteries in a high-energy musical adventure for preschoolers and their chaperones.
Finally, if this March will again be an "in like a lion, out like a lamb" month for us, that roar you hear might very well be coming from the Adler's March 2 offering Get the Led Out. Consisting of six Philadelphia-based singers and multi-instrumentalists, this tribute to the rockers of Led Zeppelin will replicate the legendary band's discography from the bombastic to the mystical, although the group's very name poses something of a mystical question itself: If the musicians of Get the Led Out did indeed get the Led out, would they still have an act?
Ponder this while securing tickets to all of the Adler's awesome winter events at (800)745-3000 or AdlerTheatre.com.
Events
iWireless Center
November through March
A modest proposal: Given that the wintertime schedule for Moline's iWireless Center boasts nearly two-dozen ice-hockey games with the Quad City Mallards and seven performances with the touring talents of Disney on Ice, I say the venue should just ditch the continual stage-to-rink transformations and keep the ice there all season long. Who wouldn't want to see the Harlem Globetrotters add a sliding challenge to their game? Or rodeo clowns taking slapstick falls on skates? Or the Southerners from Florida Georgia Line dealing with the same treacherous conditions we put up with every freakin' year?!
Ah, well, a boy can dream – which is just what the Disney on Ice folks will be asking of iWireless patrons in the December 1 through 4 presentations of Dare to Dream. This all-new stage spectacular finds Mickey and Minnie Mouse hosting a tribute to a quartet of beloved princesses, as Snow White, Cinderella, Rapunzel, and The Princess & the Frog's Tiana re-enact their animated adventures complete with magical lighting effects, stunning aerial feats, and the slapstick bumbling of that hilarious Tangled horse Maximus. But if your personal tastes are less mammal- than waterfowl-based, you're in luck: The Quad City Mallards will hit the ice in no fewer than 20 professional matches between November 25 and March 15, taking on such competitors as the Indy Fuel, the Kalamazoo Wings, the Cincinnati Cyclones, and the Missouri Mavericks.
Going from the slippery to the just-plain-slick, the iWireless Center also has a wealth of sensational concert events lined up for its winter season. On December 8, the progressive artists of the Trans-Siberian Orchestra return to Moline in Ghosts of Christmas Eve, a multimedia-driven, effects-filled rock opera based on the 1999 TV movie about a young runaway who breaks into an abandoned theatre and is eventually filled with holiday joy – just like this acclaimed touring production's ecstatic audiences. The next night, on December 9, the iWireless presents an eagerly awaited evening with chart-topping county musician Chris Young, who will perform holiday classics and hits from his extensive discography with opening sets by Dustin Lynch and Cassadee Pope. Although it's called One Voice Celebration, you'll actually hear many, many voices on December 16 and 17, when the power of gospel and contemporary-Christian music and the spirit of the season are shared by members of more than a dozen churches and community choirs from throughout the region.
Scooting, or rather flying, into 2107, the iWireless opens its year of concert events with Twenty One Pilots, the January 29 showcase for Tyler Joseph's and Josh Dun's hip-hop and indie-pop duo – a partnership that, this summer, made them the first alternative artists to have two concurrent top-10 singles on the Billboard charts. On February 2, just when Midwesterners will likely need it the most, we get to take a figurative trip to the Florida Georgia Line in a concert with the country-music duo of Brian Kelley and Tyler Hubbard, who will no doubt play number-one hits including "Cruise," "Stay," "This Is How We Roll," and their recent smash "H.O.L.Y." And just before we launch into spring, the iWireless springs into the country scene even further via a March 3 engagement with the platinum-selling, chart-topping Brantley Gilbert.
That's a lot of music. But there will also be plenty of laughs at the iWireless this winter, and if you're among his legion of fans, they'll likely be tears-rolling-down-your-cheeks laughs when comedian and ventriloquist supreme Jeff Dunham hits Moline on February 8, bringing such cherished pals as Walter, Bubba J., Peanut, and José Jalapeño along for the ride ... probably in a very comfortable suitcase. iWireless giggles will blend with amazed gasps when the Original Harlem Globetrotters bring their basketball wizardry and court-specific comedy to family audiences on January 7.
And while the clowns will offer their share of high jinks, the animals and their handlers will provide the excitement on January 27 and 28 in the ropin', buckin', rasslin' touring sensation Cinch World's Toughest Rodeo. I don't quite get that name, though. I've seen rodeo cowboys in action before, and absolutely nothing they do should qualify as a cinch.
For more information on, and tickets to, the iWireless Center's wintertime season of events, call (800)745-3000 or visit iWirelessCenter.com.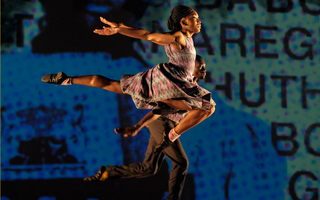 Events
Englert Theatre and Hancher Auditorium
November through March
Here's how much of an isolated movie nerd I am. Art Garfunkel is coming to Iowa City this winter. Yo-Ya Ma is coming to Iowa City this winter. The world-renowned Joffrey Ballet is coming to Iowa City this winter. And of all the fantastic events taking place at Iowa City's Englert Theatre and Hancher Auditorium this season, which one am I most psyched about attending? The screening of a 2014 movie that I already own.
But don't rush to judge! The film in question, which is being shown at the Englert on March 1, is not only Best Picture winner Birdman, but is being presented in the special concert event BiRDMAN LiVE, with the movie's Grammy-winning percussion score performed on-site by composer and jazz drummer Antonio Sanchez. If you, too, have seen this visually stunning backstage comedy, you know what that means: two nearly full hours of propulsive and exhilarating percussion music that drives the narrative like few scores ever do. But even beyond this exciting avian treat, the Englert and Hancher have plenty on their winter schedules to make an Iowa City trek totally worth the flight. (Although you might as well just drive; it's only a two-hour round trip, for Pete's sake.)
Without question, one of the Englert's musical highlights this season will be January 14's area visit by folk singer/songwriter Art Garfunkel, the Grammy-winning, chart-topping legend who has released a dozen acclaimed solo albums apart from those recorded during his iconic partnership with Paul Simon. Yet there's also more music on the Englert's wintertime lineup: acoustic folk rock with The Weepies (November 26), composed of married singer/songwriters Steve Tannen and Deb Talen; holiday-themed funk and groove in Euforquestra's Home for the Holidays (December 22); jazz, pop, and rock with the YouTube sensations of Scott Bradlee's Postmodern Jukebox (January 25); classical chamber compositions with an indie-pop twist in yMusic (January 28); alternative country rock courtesy of the Georgia-based Drive-By Truckers (January 29); and jazz fusion with the Victor Wooten Trio (March 8), led by its five-time-Grammy-winning namesake.
If you're in the mood for comedy, the Englert will provide it with a pair of sure-to-be-riotous touring engagements: the improvisational and sketch-comedy masters of The Second City in their latest presentation We're All in This Room Together (February 10 and 11), and a popular Daily Show correspondent describing his personal quest for the American Dream in Hasan Minhaj: Homecoming King (February 25).
Meanwhile, ballet dancers take to the Englert stage when members of the Nolte Academy present their annual rendition of Tchaikovsky's The Nutcracker (December 9 through 11) – the holiday classic that will also be performed at Iowa City's neighboring Hancher Auditorium a week prior in the esteemed Joffrey Ballet's own Nutcracker performances (December 1 through 4).
If your hunger for dance isn't sated by the Tchaikovsky, Hancher has another pair of thrilling events on its wintertime lineup: touring dancer/choreographer Kyle Abraham exploring identity and social justice in his new work Abraham.In.Motion (January 27), and the celebration of southeast-Asian culture Soil (February 8 and 9), featuring pieces both choreographed and performed by dancers Chey Chankethya, Waewdao Sirisook, and Nguyen Nguyen. You'll also find dancing in a pair of beloved stage musicals coming to Hancher this winter: a brand-new take on Rodgers & Hammerstein's timeless The Sound of Music (January 31 through December 5) directed by three-time Tony winner Jack O'Brien, and the farewell tour of that über-catchy ode to ABBA that is Mamma Mia! (February 25 and 26).
And there's still more coming to Hancher – Ma more, in fact, when the peerless cello master Yo-Yo Ma performs from his dynamic, expansive repertoire on March 5. But there'll also be a Schubert and Chopin recital with master pianist Emmanuel Ax (December 6), and Western swing with Asleep at the Wheel's holiday concert Merry Texas Christmas, Y'all! (December 9), and classical compositions with the Cleveland Orchestra (January 20) and the Ying Quartet with Billy Childs (February 11), and astounding acrobatics with the wizards of Circus Oz (March 3 and 4) ... .
Oh, and I see there's a special Hancher concert with Inuit throat singer Tanya Tagaq on February 16, in which she'll lend her haunting vocalizations to ... a screening of the 1922 documentary classic Nanook of the North! Isolated movie nerds rejoice!
For more information on the wintertime season at Iowa City's Englert Theatre, call (319)688-2653 or visit Englert.org, and for more on the city's Hancher Auditorium, call (319)335-1160 or visit Hancher.Uiowa.edu.
Music
The Redstone Room
November through February
On the night before Thanksgiving, Davenport's Redstone Room will be filled with songs by The Band. If you're young enough to find that sentence incredibly nondescript, let me clarify: The venue will be filled with songs by the The Band – the Canadian-American rockers and Rock & Roll Hall of Famers whose Thanksgiving Day 1976 concert was immortalized in the Martin Scorsese documentary The Last Waltz.
Following evenings held in celebration of the Beatles' Abbey Road and Prince's Purple Rain, organizer Alan Sweet's All Sweat Productions Presents: The Last Waltz will, on November 23, replicate the doc's album with numerous area musicians playing classics and more-modern hits originally performed not only by The Band but legends such as Bob Dylan, Neil Young, Joni Mitchell, and Eric Clapton. And while the Redstone Room's wintertime season opens with The Last Waltz, for those of you with dancing shoes, it'll be merely the first – at least if you're the fearless type who'll happily waltz to pop, rock, jazz, blues, folk, and salsa.
Taking place immediately post-Thanksgiving, the Redstone Room presents November 25's An Evening with Lisa Loeb, in which the Grammy-nominated singer/songwriter will share favorites from her two-decade-plus career, no doubt including "Stay (I Missed You)" – a pop smash that made Loeb the first artist to score a number-one single in the U.S. despite not being signed to a recording contract. The following week, it's time for funk and jazz in December 1's evening with the Joe Marcinek Band, a night of groove and improvisation boasting an opening set by The Low Down. And the Thursday after that brings with it the Colorado-based indie-folk talents of Paper Bird, with Chicago's Dan Tedesco kicking off the December 8 concert event.
No fewer than 14 musicians take the Redstone Room stage for the venue's December 16 booking, with Parranderos Latin Combo exploring salsa, cumbia, and samba music through its team of singers and instrumentalists from the Midwest, the Caribbean, and South America. If it's the third Sunday of the month, as it will be on December 18, it must be time for Polyrhythms' Third Sunday Jazz Matinée & Workshop Series, in which noted local, regional, and national jazz acts perform 6 p.m. concerts after experts in the field guide patrons through instructional and entertaining 3 p.m. jazz presentations. (Additional Third Sunday events this winter will land on January 15 and February 19.)
A trio of exceptional acts happily familiar to Redstone Room patrons are on the January docket, including an actual trio: the Minnesota-based multi-instrumentalists of The Last Revel, whose January 12 concert will deliver a blend of Americana, folk, and rockabilly with an opening set by Miles Over Mountains. The bluegrass and modern-folk musicians of The Way Down Wanderers hit Davenport on January 21, their soulful five-piece ensemble preceded by their genre compatriots Grass Fed Mule. And if it's hard-driving blues rock you're after, look no further than January 27's evening with Anthony Gomes, who inspired Blues Music Magazine to rave that the artist's "formidable guitar chops and authentic singing place him in the forefront of modern blues."
The Redstone Room's February officially begins on February 3, when a country-music sensation is celebrated via the Peoria-based Whiskey's Gone: A Zac Brown Tribute Band. February 8's An Evening with Keller Williams finds the noted singer/songwriter and guitarist performing from his expansive discography of more than 20 modern-folk albums including 2015's Vape. (Fun fact: Each of those album titles is only one syllable!)
Finally, on February 17, Redstone Room staffers are proud to present a return engagement with venue favorite Pokey LaFarge, whose folk, roots, and country repertoire has dazzled crowds from coast to coast, and whose 2010 album Riverboat Soul boasts a track titled "Bag of Bones" that was recorded in 3/4 time. You know what that means, right? It's a song that's meant to be waltzed to. Knew those dancing shoes would come in handy.
For more on the Redstone Room's wintertime lineup, and other happenings in the venue's River Music Experience locale, call (563)326-1333 or visit RiverMusicExperience.org.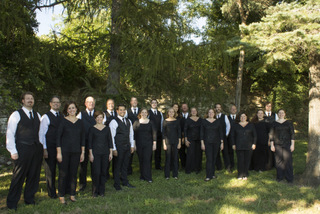 Music
Holiday Concerts
November and December
If you're familiar with the Canadian Pacific Railroad's Holiday Train, which rolls into Davenport on December 3, you know that you can expect this locomotive to be festooned with Christmas lights and beautiful decorations both inside and outside its cars. But this year, it'll also be a veritable holiday concert on wheels. The train's stops will find Canadian blues artist Colin James performing seasonal favorites not only locally at 2 p.m., but outside railroad stations in Muscatine, Clinton, Dubuque, and other nearby locales on Saturday the third and Friday the second – the most literally transporting events during our area's traditionally song-filled holidays.
Area houses of worship will certainly be providing their share of wintertime treats. The RiverBend Bronze Handbell Choir will ring in the season with holiday concerts at Davenport's St. John United Methodist Church (November 27) and Geneseo's First Lutheran Church (December 4), with the German American Heritage Center and Davenport Zither Ensemble bringing their concert event Unser Geschenk to Davenport's St. Mark Evangelical Lutheran Church (December 11). Davenport's grandly scaled First Presbyterian Church Christmas Concerts are scheduled for December 17 and 18, with many area church choirs bringing contemporary-Christian and gospel numbers to the iWireless Center in December 16's and 17's One Voice Celebration.
Galesburg's professional vocal ensemble the Nova Singers shares its annual A Nova Christmas concerts with patrons at Davenport's St. Paul Lutheran Church (December 16) and Galesburg's First Lutheran Church (December 17). And Celebrate the Holidays (December 9) will find Rock Island's Heritage Church hosting performances by the Chordbusters, the Harminators, the Gadabouts, and the Good News Singers Chorale, as well as soloists Patrick Downing, Steve Couch, and that fabulous high-school talent Laila Haley.
Local institutions of learning, meanwhile, also have a concert-packed winter ahead. Tales and tunes will be heard in presentations of Lessons & Carols at St. Ambrose University's Christ the King Chapel (December 2) and Augustana College's Ascension Chapel (December 13). St. Ambrose will also showcase its University Chorale, Chambers Singers, and other student ensembles and soloists in the Galvin Fine Arts Center's annual An Ambrosian Christmas (December 9), while Augustana delivers an additional pair of holiday treats: Augie's Ascension Ringers, Brass Ensemble, Symphony Orchestra, Choir, Concert Chorale, and Jenny Lind Vocal Ensemble in Christmas at Augustana (December 3), and the return of Handel's holiday-choir masterpiece in A Messiah Christmas (December 10 and 11).
Meanwhile, with its events taking place at venues throughout the Quad Cities, Black Hawk College has on its holiday menu concerts with – deep breath! – the BHC Chamber Singers (December 2 and 14), Concert Choir (December 3), Community Band (December 6), String Orchestra (December 12), and Community Chorale (December 15), with the school's annual BHC Holiday Choral Concert scheduled for December 8 at Moline's First Congregational Church.
If that's somehow not enough Christmas cheer for you, make plans for a trio of additional seasonal song-fests, with the Figge Art Museum hosting the Heartland Miramba Holiday Spectacular (December 1), the Lavender Crest Winery your destination for the wondrous vocal talents of Christmas with the Quad City Singers (December 9 and 10), and the Galvin Fine Arts Center the warm home to hot tunes in the Quad City Wind Ensemble Holiday Concert (December 11).
Plus, so many famous names heading our way this season – even if their individual names are perhaps less well-known than their show monikers Trans-Siberian Orchestra: Ghosts of Christmas Eve (iWireless Center, December 8) and Branson on the Road: Christmas Style (November 26 at Maquoketa's Ohnward Fine Arts Center and December 1 at the Circa '21 Dinner Playhouse).
But Davenport's Adler Theatre has a pair of seasonal country concerts in John Berry: O Holy Night (November 28) and Home Free's A Country Christmas (December 13), along with a homegrown Steinway master performing Jim McDonough: Holiday Grande 2016 (December 10 and 11). A multi-platinum-selling country-music chanteuse performs at the Quad-Cities Waterfront Convention Center in the Deana Carter Holiday Show (December 9), while Grammy-winning and chart-topping pop superstar Michael Bolton brings seasonal songs to the Riverside Casino Event Center (December 10).
As for Davenport's new(ish) Rhythm City Casino Resort, the venue will host not only an Oscar- and Grammy-winning pop/rock superstar in its December 17 holiday concert with Melissa Etheridge, but, on December 11, a thrilling multimedia experience in Christmas with the Nelsons. Those Nelsons would be Matthew and Gunnar, not relatives of that Simpsons bully. HA-A-A ha!
For more on wintertime-music options in the area, visit the Reader's online Music calendar.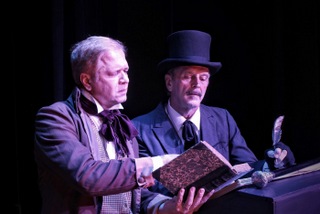 Theatre
Musicals & Dance
November through March
As a beloved novice soprano, and soprano novice, once trilled, "The hills are alive with the sound of music!" Well, this season, you can forget about the hills – the whole region will be alive with the sound of music ... including the Iowa City region that plays host to the Hancher Auditorium's all-new touring production of The Sound of Music (January 31 through February 5).
Three-time Tony winner Jack O'Brien's acclaimed re-imagining of Rodgers & Hammerstein's cherished classic will precede Hancher's wintertime stagings of Mamma Mia! (February 25 and 26), the quintessential jukebox musical if the jukebox in question played nothing but ABBA songs. There will also be extraordinary choreography on display in the venue's forthcoming presentations of the Joffrey Ballet's The Nutcracker (December 1 through 4), Kyle Abraham's Abraham.In.Motion (January 27), and the Asian-influenced Soil (February 8 and 9). But don't feel that you'll be restricted to Iowa City this season if you're looking for musical and theatrical-dance entertainment.
Local tune-filled fun for audiences of all ages begins with the Circa '21 Dinner Playhouse's family musical Jingle Arrgh the Way (November 25 through December 26), director Andrea Moore's Christmas-themed sequel to How I Became a Pirate, which runs on select mornings and afternoons in conjunction with Circa '21's and director Ann Nieman's mainstage revue Holly Jolly Christmas (through December 29). One of Will Ferrell's most endearing goofballs gets a theatrical makeover in the Adler Theatre's family-musical rendition of the holiday hit Elf (November 29). Quad City Music Guild has another family delight in store in a song-and-dance version of Charles Dickens' A Christmas Carol (December 1 through 4), with Michael Turczynski directing more than two-dozen stage talents and music director Heather Beck tackling Oscar-winning composer Alan Menken's score.
A charming children's-book character takes the stage at St. Ambrose University when director Kimberly Furness helms The Musical Adventures of Flat Stanley (December 3 and 4). And beyond its performances at Hancher and, from December 9 through 11, Iowa City's Englert Theatre, family audiences can revel in the holiday spell of Tchaikovsky when Ballet Quad Cities and Orchestra Iowa grace the Adler Theatre with the annually beloved The Nutrcracker (December 10).
Once the new year hits, it's only a few weeks 'til the Adler Theatre's touring presentation of Once (January 25), the moving and exhilarating musical romance that won eight Tony Awards and was adapted from 2007's Oscar-winning movie. And ironically enough, Once will be the second local musical of January to be based on an Academy Award winner, as Circa '21 starts its 2017 season on notes of fantasy and romance in the area debut of Ghost: The Musical (January 11 through March 11), with Jerry Cranford directing this Tony-nominated version of the two-time Oscar victor.
Ballet Quad Cities has more to offer dance fans in celebration of Valentine's Day, when Moline's Scottish Rite Cathedral hosts the annual vignettes of Love Stories (February 10 and 11), a celebration of the company's 20th anniversary through evocative pieces including choreographer Johanne Jakhelln's intriguingly titled "Chairished." Everyone is invited to "come and meet those dancing feet" when the Adler delivers a lavish, toe-tapping, Broadway-belting touring production of the musical masterwork 42nd Street (February 13).
Finally, arriving just in time to kiss winter a hearty goodbye, Circa '21 and director Jim Hesselman present the long-awaited venue return of a legendary musical unseen at the building in more than two decades: Meredith Willson's The Music Man (March 15 through May 13). Even if you've seen it before, you'll no doubt want to see it again, rife as it is with unforgettable tunes such as "You Got Trouble," "76 Trombones," "'Til There Was You," "Gary, Indiana," and "Iowa Stubborn" – that latter one the song with the lyric "Oh, there's nothing halfway about the Iowa way to treat you when we treat you ... which we may not do at all." Hee hee hee ... !
Hey, I live in Illinois. It's funny to me.
For more on the area's wintertime roster of musicals and dance events, visit the Reader's online Theatre calendar.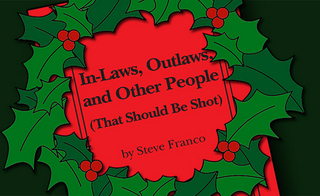 Theatre
Comedies & Dramas
November through May
The last time I composed a seasonal-guide article on our area's lineup of theatrical comedies and dramas, I'll admit I opened that Fall Guide piece on something of a bummer note, making mention of just how many upcoming titles concerned death, infidelity, and other dicey topics. Well, in the spirit of the season, I'm determined to start things off on a much brighter note for this preview of wintertime stage treats! So let's hear it for Geneseo's Richmond Hill Barn Theatre, which, from December 1 through 11, will deliver an optimistic tale in which nearly two-dozen characters celebrate the true meaning of Christmas in a Steve Franco comedy titled ... In-Laws, Outlaws, & Other People (That Should Be Shot).
Well, the uplift was nice while it lasted.
Don't fret, though: Director Eugenia Giebel's closer for Richmond Hill's 2016 season is indeed a warm and funny outing ... even if it does concern a family whose holiday plans are interrupted by the arrival of a pair of thieves who just robbed a liquor store. Similarly, even though they both have "murder" in their titles, happy times will definitely be in store when the interactive comedians of It's a Mystery Quad Cities bring their dinner-and-a-killing evenings to Rock Island's Skellington Manor in author Kim Eastland's Murder in Paradise (December 16, January 20, and February 14) and Patti Flaherty's Akin to Murder (January 13 and February 11). Heck, Neil Simon's Tony-winning Rumors – which Alex Richardson will direct for the Playcrafters Barn Theatre March 10 through 19 – opens with a guy getting shot in the head, and it's hilarious! So let's cheer up, people!
Yes, Playcrafters and director Donna Weeks are also presenting Robert Harling's beauty-shop heartbreaker Steel Magnolias (January 13 through 22), but everyone familiar with that widely adored show knows it's as laugh-out-loud-funny as it is moving. True, New Ground Theatre and director Chris Jansen are staging the PTSD drama Water by the Spoonful (January 20 through 29), but Quiara Alegría Hudes' riveting script also won a 2012 Pulitzer Prize, with the New York Times praising its "shimmering, sustaining warmth" and "vibrant humor."
Sure, a patriarch is dying and a woman is accused of attempted murder in Augustana College's and director Jennifer Popple's Crimes of the Heart (January 27 through February 5), but Beth Henley's comedy – another Pulitzer champ – is also a rich, frequently riotous celebration of family. And yeah, Augie's Agnes of God (December 8 through 11), directed by student Jacob Kilburg, concerns a convent novice who gives birth to an infant who winds up dead, but John Pielmeier's fascinating, Tony-winning mystery drama is ... . Okay, yeah, that one is pretty grim. Fun, but grim.
But back to happy! Davenport Junior Theatre brings Beverly Cleary's beloved children's-book character and her many pals to life in Ramona Quimby (February 18 through 26)! Tristan Tapscott directs an acclaimed romantic comedy in New Ground's and author Jason Odell Williams' Handle with Care (February 24 through March 4)! A quartet of St. Ambrose University one-acts will showcase the talents of their student directors in Jordan Webster-Moore's Silenced and Jordan McGinnis' The Cat & the Monkey (December 11), and Brian Leibforth's Eleven Fifty Six and Zachary Lawson's Bolero (December 12)!
And even our area's Elizabethan theatre this season is lighthearted! Well, okay, a quintet of esteemed British actors from the Royal Shakespeare Company, Great Britain's National Theatre, and Shakespeare's Globe Theatre will be bringing their take on Romeo & Juliet to St. Ambrose on March 4, but that's a touring tragedy, so it doesn't count, right ... ?
Anyhoo. At the QC Theatre Workshop venue, the Prenzie Players and director Kitty Israel will deliver a pre-Christmas present with the pastoral comedy of Shakespeare's As You Like It (December 9 through 17). And although the Bard didn't write St. Ambrose's midwinter offering, he was certainly the inspiration for authors Adam Long, Daniel Singer, and Jess Winfield in their crafting of The Complete Works of William Shakespeare (abridged) [revised] (February 17 through 19). Directed by Reader theatre reviewer Brent Tubbs, this recently updated series of sketches features nods to Hamlet, King Lear, Othello, Julius Caesar, Titus Andronicus ... .
Wait! Come back! I swear, it's tragedy in service of comedy!!!
Oh, never mind. For more details on these and other wintertime shows about assassins, cannibals, politicians, and such, visit the Reader's online Theatre calendar.
Also visit "What's Happenin': Tuesday, November 22, through Wednesday, December 7."