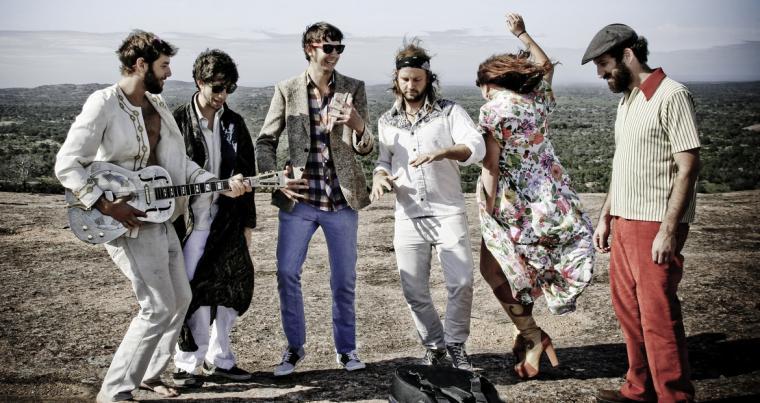 Music
The Redstone Room
March through May
On April 26, Davenport's Redstone Room hosts a special concert with The Lacs, the country-rock and southern-rap outfit composed of Brian King and Clay Sharpe. Given that the band's moniker is reportedly short for "loud-ass crackers," this Georgia-based duo whose 2015 album Outlaw in Me reached number three on Billboard's country chart will no doubt provide a rousing springtime evening at the area venue. But trust me, it'll hardly be the only one. Given just how many terrific musicians are booked there over the next couple of months, the Redstone Room's schedule is anything but Lacs.
(Author's note: That's wordplay on the adjective "lax." The joke plays better when you listen to this article on Audible.)
(Editor's note: Ignore him. You can't listen to this article on Audible.)
The Redstone Room starts its spring with the blues chops of master guitarist Albert Cummings (March 16), the International Blues Challenge winner who topped the charts with 2012's No Regrets. No Celtic-music fan would regret being at the venue for the following night's St. Patrick Day's Concert (March 17), a fundraiser for the Quad Cities' 2017 Celtic Festival & Highland Games featuring sets by Laural Almquist and Four Shillings Short. And the springtime concerts in Polyrhythms' Third Sunday Jazz Workshop & Matinée Series begin with a visit by Grammy-winning pianist and Quad City Arts Visiting Artist Laurence Hobgood, whose March 21 performance with his trio precedes Polyrhythms' Redstone Room engagements with jazz pianists and composers Willie Pickens (April 16) and Corey Kendrick (May 21).
Illinois-based, nationally touring singer/songwriter Dan Hubbard performs his Americana stylings alongside opener Erin Moore on March 24, while March 25 brings with it a musical fundraiser for area teen Sammie Ertzinger in A Song for Sammie's suicide-prevention awareness concert featuring sets by The Candymakers, Juliana & A Soul Purpose, Chris Noth, Matt Fuller, Ethan Good, and Colin Keemle. The North Carolina quartet of Mipso will fill the Redstone Room with string-band sound and indie-folk appeal on March 31, and the month concludes with a double bill of jamming funk, jazz, and rock courtesy of Family Groove Company and Egi (March 31).
Every Friday in April will find the Davenport venue housing exciting musical entertainment of varied styles: pulse-pounding rock with the four-band lineup of 3 Years Hollow, Shallow Side, Trustfall, and Within the Grey (April 7); blues and soul with guitarist Doyle Bramhall II (April 14), noted for his work with Eric Clapton and Roger Waters; psychedelic folk with the Texas-based psychedelic folks of Calliope Musicals (April 21); and a double bill boasting the genre-defying Steepwater Band and guitar-less rockers Minus Six (April 28). But fear not, as the Redstone Room's April concerts aren't limited to Fridays – not with The Lacs performing on a Wednesday, Willie Pickens on a Sunday, rock and jazz guitarist Johnny A. on a Thursday (April 27), and the roots rockers of Old Shoe and The Dawn on a Saturday (April 29).
May, meanwhile, is sure to be chockfull of some great sound. That's meant literally on May 11, because Great Sound Promotions joins the River Music Experience in presenting an evening with Najee, the Grammy-nominated jazz saxophonist and flautist who has collaborated with recording legends including Prince, Quincy Jones, and Stevie Wonder. May 18 will end with an evening of bluegrass with touring musicians Pert Near Sandstone and Dead Horses. And if you're a fan of the blues, or Canadians, or blues performed by a Canadian, hit the Redstone Room on May 19 and check out the chart-topping skills of Toronto-based Chris Antonik. His set will be even smoother if enjoyed with a Gin Antonik.
(Author's note: Ha ha ha ha ha!!!)
(Editor's note: Seriously. Ignore him.)
For more information on the Redstone Room's spring schedule, call (563)326-1333 or visit RiverMusicExperience.org.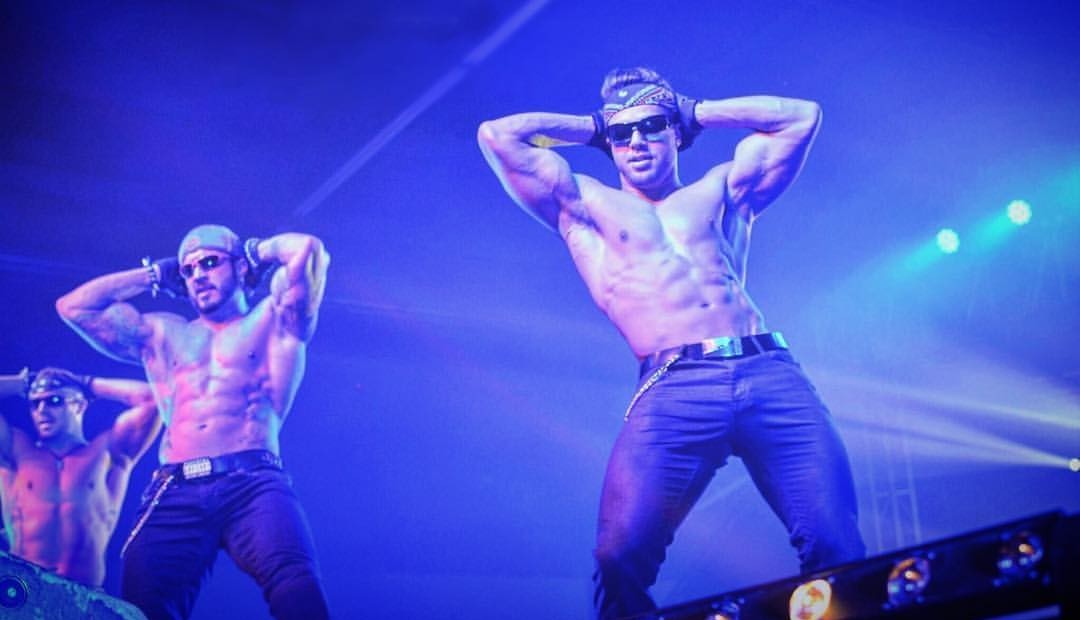 Magic Men Live! - April 21
Events
Adler Theatre
March through May
No matter where your musical affinities lie, something is sure to tickle your ears at the Adler Theatre this spring, because it turns out that every single one of the Davenport venue's dozen-plus events is a tune-filled one. The lineup boasts Beethoven and Journey. Tchaikovsky and U2. Mozart and Styx. And that's just one of the events.
On April 4, you'll hear compositions by these and other legends when the Adler presents the touring presentation Rocktopia Live! A Classical Revolution. An inspiring, uplifting evening suggesting that genre and generational tastes aren't as incompatible as they may sometimes seem, the show features esteemed Maestro Randall Craig Flesicher conducting unique mash-up arrangements blending the best in classical music and rock. In addition to the aforementioned icons, audiences will be treated to the soaring strains of Handel, Rachmaninoff, Strauss, and Copland cleverly interwoven with the electrifying sounds of Foreigner, Heart, The Who, and Pink Floyd. One can only hope that the latter's inclusion leads to a rousing rendition of "Another Bach in the Wall."
For unvarnished Bach, the German composer's devotees won't want to miss the Quad City Symphony Orchestra's final Masterworks concert of the 2016-17 season: Bach's oratorio masterpiece the St. Matthew Passion. While its performance at the Adler on April 8 (and at Augustana College's Centennial Hall on April 9) is the only composition on the program, don't think that the symphony is slacking in its season-ender. With chorales and arias accompanying the orchestral music, the QCSO presentation will also employ the talents of Quad City Choral Arts, the Augustana Choir, six vocal soloists, and two organists under the direction of Jon Hurty and with Mark Russell Smith conducting – a hugely challenging and satisfying piece of musical history (and one performed in an English translation!) that might also go down in area-music history.
The St. Matthew Passion is such an undertaking that its musicians would be easily forgiven for taking the rest of the spring off. Not that they are. On April 29, while the adjoining Davenport RiverCenter hosts the QCSO Family Music Carnival, the Adler presents the special family concert Dr. Seuss!, in which the symphony tells the musical tales of The Sneetches and Green Eggs & Ham with the aid of stage actors, narration, and video animation. Then, on April 30, the musicians join the five Quad City Symphony Youth Ensembles for the annual QCSO/QCSYEs Side-by-Side Concert, with adult and student performers sharing the Adler stage in a community celebration boasting more than 150 musical instruments. (Later that day, even more will likely be heard in the RiverCenter's Community-Wide Side-by-Side, with all Quad Cities musicians invited to join the symphonies in a rousing take on Tchaikovsky's 1812 Overture.)
Ballet Quad Cities will also be getting into the classical spirit this spring – to say nothing of the spirits of foot-stompin', heel-clickin', toe-tappin', and other choreographic activities with dropped Gs. In its two Adler Theatre presentations of The Wild, Wild West (April 1), the area's professional-dance troupe heads to the bunkhouse with dance performances of the Aaron Copland ballets Rodeo and Billy the Kid. And if that's somehow still not enough stompin' for you, the Adler will follow it with some capitalized STOMP (April 25), the percussion-themed stage smash that makes explosive, provocative, unpredictable song-and-dance magic out of everything from drums to inner tubes to paint cans. Don't try this at home. Or, if you really want to annoy your spouse, do.
More touring sensations hit the Adler this spring in a pair of Tony-lauded Broadway musicals, with a red-headed tyke and her trusty pooch sharing the spotlight in Annie (April 2), and Bohemia unleashed in the Pulitzer-winning Rent (May 17), which gets a brand-new staging on – if you can believe it – its 20th-anniversary tour. (And I felt old when that show debuted ... .) If "Tomorrow" and "Seasons of Love" don't slake your thirst for familiar tunes, you're sure to find more in a pair of song-filled events on the seasonal docket: Rain: A Tribute to the Beatles (March 17), which celebrates the 50th anniversary of the release of The Sgt. Pepper's Lonely Hearts Club Band, and an evening with the chart-topping, Grammy-winning, eternally awesome Olivia Newton-John (March 17).
But believe it or not, that's still not the end of the Adler's musical variety this spring. A country-music superstar lands in Davenport when chart-topping chanteuse Lorrie Morgan (April 14) performs timeless hits including "Five Minutes," "Except for Monday," and "Something in Red." The Vertical Nights Tour (April 26) brings to the Adler messages of faith and uplift courtesy of the titular band, Pastor James MacDonald, and special guest Meredith Andrews. And finally, some of today's hottest music will accompany some of today's hottest ... well, hotties ... in the high-energy, interactive exotic-dance event Magic Men Live! (April 21). In case you were wondering, yes, in the accompanying picture, that is me on the right. Man, I hate it when they Photoshop someone else's face on my body ... .
For more on Adler Theatre events this spring, visit AdlerTheatre.com.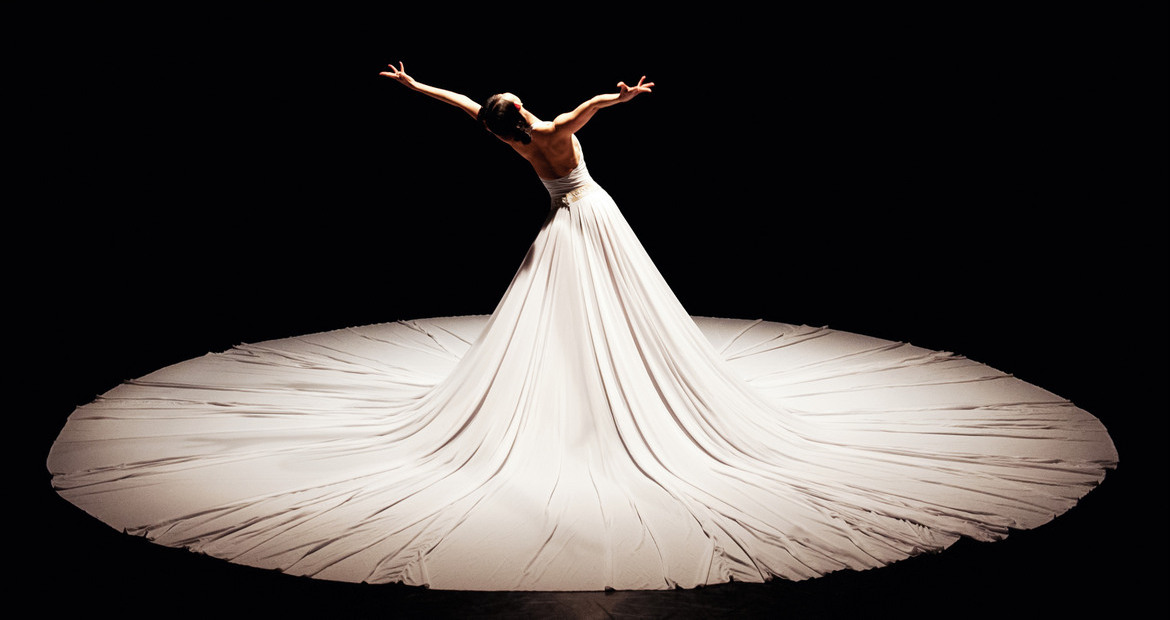 Jessica Lang Dance at Hancher Aiditorium - March 23
Events
Englert Theatre and Hancher Auditorium
March through May
In 1997, back when they were a nascent Celtic group performing the pub scene in Santa Monica, California, the members of Gaelic Storm appeared in the movie Titanic as the exuberant steerage band who got Kate Winslet on her toes. While we're never shown what happens to those musicians after the iceberg hits, the fact that they're stuck in steerage gives us a pretty good guess. And either way, it couldn't have been a happier fate than the one enjoyed by the actual Gaelic Storm, which brings its signature blend of Irish and Scottish rock, country, and folk stylings to Iowa City's Englert Theatre on March 22 – the first in a gale of springtime entertainments at the Englert and neighboring Hancher Auditorium.
Musically speaking, this season's schedule at the Englert is pretty darned killah – and not only because it boasts a performance by Wu-Tang Clan member Ghostface Killah. Appearing as one of the exceptional musicians recruited for the annual Mission Creek Festival lineup, the rap and hip-hop storyteller takes the stage on April 5, his Englert concert followed by sets with the Brooklyn-based rock ensemble DIIV (April 7), Grammy-nominated pop singer/songwriter Rufus Wainwright (April 8), and indie pop with multi-instrumentalist Kishi Bashi (April 9). But there are also additional musical treats on tap at the Iowa City venue this spring: folk and indie-rock with Bright Eyes' Conor Oberst (March 26); acoustic rock with two-time Grammy winner Rickie Lee Jones (March 29); genre-hopping compositions with pianist George Winston (May 2); and Americana and alt-country with singer/songwriter Justin Townes Earle (May 24).
If, however, it's laughs you're seeking, you'll find plenty among the Englert's springtime offerings. On March 24, the venue welcomes a sensational comedian – and the former star of a truly underrated eponymous sitcom – when Christopher Titus brings his Sixth-Annual End of the World Tour to Iowa City, while another stand-up and sitcom veteran, Grammy winner and Emmy nominee Margaret Cho, shares her observational and storytelling skills on April 6. There will be chuckles mixed with shivers in the Englert's latest live performance of the Welcome to Night Vale podcast (April 22). And a solid contender for Shakespeare's Funniest Comedy honors gets a stage-to-screen transfer in the Englert's April 23 presentation National Theatre Live: Twelfth Night. (Inarguably great though Ibsen's play is, don't expect similar cackles from May 21's National Theatre Live: Hedda Gabler. That thing is dark.)
As for the springtime events at Hancher Auditorium, the venue ends the first official season at its new locale with music, dance, performance art, and that bastard who killed Alexander Hamilton. Okay, not exactly him. But on March 27, Hancher will still host an eagerly awaited lecture presentation with Leslie Odom Jr., the Tony-winning Hamilton star whose Aaron Burr believed in talking less, smiling more, and daring to steal a show away from Lin-Manuel Miranda. Odom will reflect on his life and career during the Hancher engagement, and while there's no concrete word on whether he'll also sing, you can certainly expect tunes aplenty in the April 4 evening with Andrew Bird, the folk and indie-rock multi-instrumentalist and singer/songwriter who appears on the night's bill with a true partner in genre: Shara Nova of My Brightest Diamond.
Before these guests arrive, however, Hancher's spring season actually gets kicked off on March 23 with ballet – specifically, the East Coast performers of the Long Island-based Jessica Lang Dance, performing a repertoire of vignettes including famed architect Steven Holl's Tesseracts of Time. (For anyone who's confused: No, the star of American Horror Story and Tootsie does not moonlight as a ballerina. That's Jessica Lange with an "e.") Big-band tunes get a healthy workout on March 25 when The Boston Pops Esplanade Orchestra presents its concert event By George! The Pops Play Gershwin, a celebration of Great American Songbook classics ranging from "Rhapsody in Blue" to the score of An American in Paris.
And with two nights and four performances showcasing an extraordinary jazz pianist/composer and his ensemble in the Fred Hersch Trio concerts on April 14 and 15, Hancher wraps up its 2016-17 season with more music ... and dance ... and poetry ... and film ... and shadow-puppetry ... and other disciplines in May 4's touring performance by San Francisco artist Marc Bamuthi Joseph. The title of his unclassifiable performance-art piece? /peh-LO-tah/. Expect it to be /guh-LO-ri-us/.
More information on the Englert Theatre's spring schedule is available by calling (319)688-2653 or visiting Englert.org, and for more on springtime events at Hancher Auditorium, call (319)335-1160 or visit Hancher.UIowa.edu.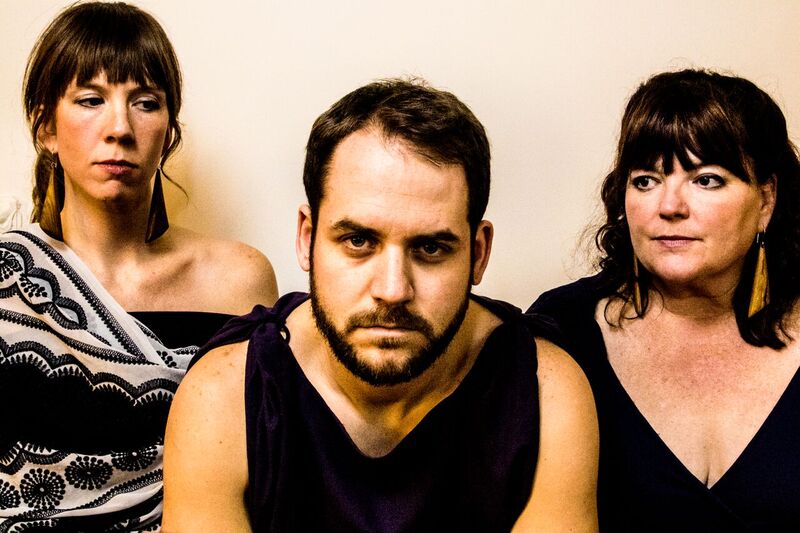 Beth Woolley, Jarrod DeRooi, and Denise Yoder in the Prenzie Players' Coriolanus – March 23 through April 1
Theatre
Comedies and Dramas
March through June
In the past, I've occasionally poked fun at our area's seasonal theatre schedules for being rife with downbeat titles, and considering that two shows this spring include the word "murder" and one boasts "graveyard," I guess I could this time, too. But glancing over the lineup, I've decided to take a more optimistic approach.
I mean, look – there's M*A*S*H! The stage version of that beloved Alan Alda sitcom ... that took place during the Korean War and featured all that bloody surgery ... . Okay, then, what about The Good Doctor? That sounds uplifting! And it was written by Neil Simon ... although based the melancholic short stories of Anton Chekhov ... . Fine. What about Charlotte's Web? Great family stuff! Adorable pig! Friendly spider ... who dies ... .
Oh come on, springtime theatre! Help a fan out, willya?!
Hopefully, my whining will be taken in jest, because those are all terrific titles. Tim Kelly's Army-medic satire M*A*S*H (May 12 through 21) receives a Playcrafters Barn Theatre staging by director Rae Mary following the venue's and director Alex Richardson's current run of the Neil Simon slapstick Rumors (running through March 19). The spring's other Simon – Scott Community College's The Good Doctor (April 27 through 30) – finds Kevin Babbitt directing 10 short vignettes in this Tony-winning spoof of Chekhovian angst. And as the first production in the season's Magic Owl Children's Theatre series, Charlotte's Web (May 9 through 12) brings E.B. White's unforgettable Wilbur, Fern, Templeton, and tragic arachnid to life at the Timber Lake Playhouse.
As for those aforementioned "murder"-ous titles, they couldn't be more dissimilar. A rare springtime outing for Genesius Guild, T.S. Eliot's historical drama Murder in the Cathedral concludes its run of Don Wooten-directed performances at area churches with stagings at Moline's First Congregational Church (March 18), Rock Island's St. John's Lutheran Church (March 19), and Clinton's St. Paul Lutheran Church (March 25). Meanwhile, the lighter side of (theatrical) killings will be explored when director John Donald O'Shea serves up the Fred Carmichael comedy Out of Sight, Out of Murder (April 20 through 30), a Richmond Hill Barn Theatre production that precedes director Tom Morrow's late-spring take on the Scopes-monkey-trial drama Inherit the Wind (June 1 through 11).
That particular play by Jerome Lawrence and Robert E. Lee is a modern classic. But area theatre gets even classic-er – thank you, English major of mine! – with two springtime titles by William Shakespeare: the Prenzie Players' Coriolanus (March 23 through April 1), a Roman-politics tragedy that director Jeremy Mahr will stage at the QC Theatre Workshop; and St. Ambrose University's majestic Richard III (April 21 through 23), director Ron Clark's finale to the theatre department's year-long concentration on the Bard's output. Plus, if you're looking for something even classic-er-er, take your kids on a trip to Camelot in writer/director Aaron Randolph III's Merlin & King Arthur (April 29 through May 7), a world-premiere family comedy debuting at Davenport Junior Theatre.
Don't feel slighted, though, if you prefer your theatre a touch more contemporary. Both springtime studio productions at St. Ambrose and Augustana College, for instance, boast scripts younger than their student directors, with the former's Rachael Pribulsky staging Will Eno's 2012 comedy of suburbia The Realistic Joneses March 30 through April 1, and the latter's Audrey Johnson helming Diana Son's 1999 hate-crime drama Stop Kiss April 6 through 9. (For really contemporary theatre, Augie will host its annual Quad City Playwrights Festival of new, 10-minute plays on May 13). Current Augustana senior Debo Balogun, meanwhile, directs George Brant's 2007 Elephant's Graveyard (May 5 through 14), the dramatic tale of a 1916 traveling circus that serves as the opener for New Ground Theatre's upcoming season.
First published just over two years ago, Sean Grennan's The Tin Woman (April 21 through May 6) tells the moving tale of a heart-transplant recipient, with Aaron Lord directing the title for Moline's Black Box Theatre. And finally, because I can practically hear the choruses of "But what are you-u-u doing, Mike?!?" out there, I'm proud and happy to say that I'll be amongst the cast for the QC Theatre Workshop's and director Calvin Vo's Peter & the Starcatcher (June 2 through 18). The winner of five 2012 Tony Awards, this Peter Pan origin story by author Rick Elice is a family adventure with enough singing to qualify as a musical, but I'm instead including it here as a comedy. Maybe that way, if I accidentally screw up the songs, it won't be that big a deal.
For more on the area's springtime season of comedies and dramas, visit the Reader's online Theatre calendar.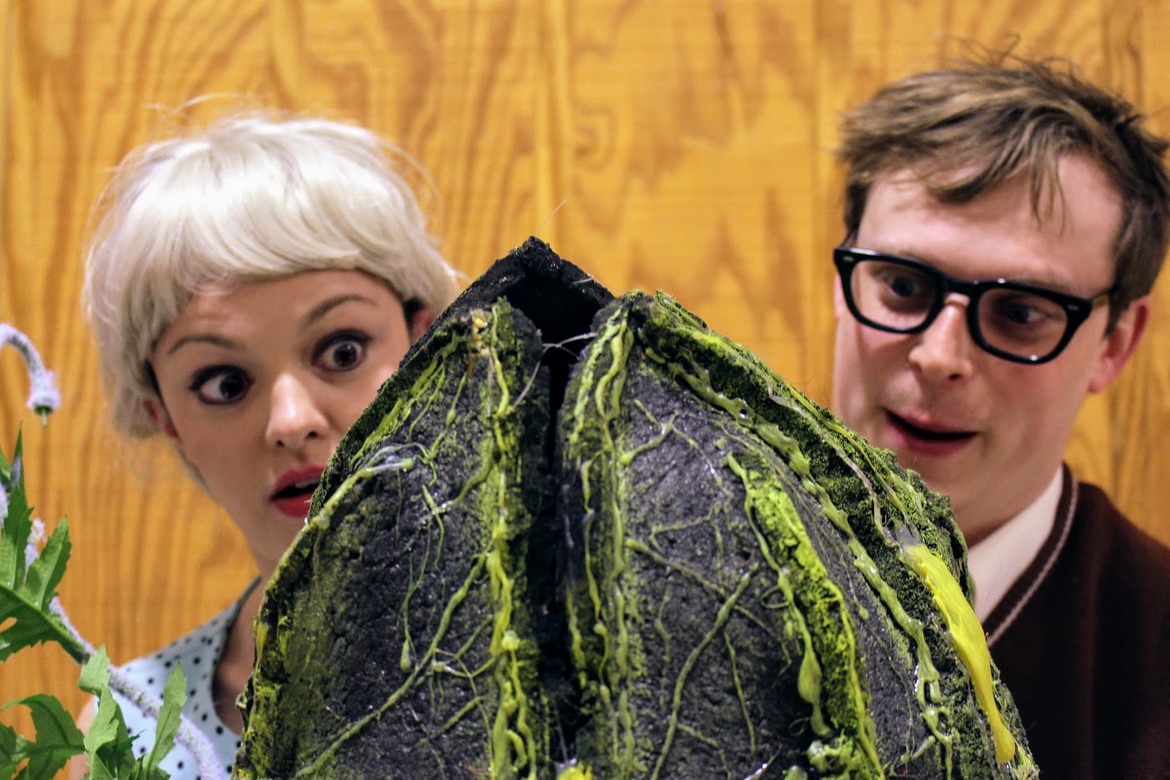 Abbey Donohoe and Andy Sederquist in Quad City Music Guild's Little Shop of Horrors - March 29 through April 1
Theatre
Musical and Dance
March through June
Little Shop of Horrors. Beauty & the Beast. Mary Poppins. Heathers. Is this a spring-musical preview, or a trip through Mike's DVD shelves?
It's the former. I don't own Mary Poppins. (Considering I had it committed to memory by the time I was 10, what would be the point?) But those four screen-to-stage transfers are among the many eagerly anticipated titles on our area's collective lineup of musicals and dance performances, more than a few of which will boast recognizable material even if they weren't preceded by famed film versions.
As I've been a fan of the show (and Roger Corman's 1960 cult flick) for more than 30 years, I'm beyond eager to see Quad City Music Guild's Little Shop of Horrors (March 30 through April 2), director Matt Holmes' tender tale of a boy, a girl, a psychotic dentist, and a man-eating plant that was one of the first collaborations between eventual composing legends Howard Ashman and Alan Menken. The pair went on to win Oscars for Disney's The Little Mermaid and Beauty & the Beast, the latter of which will be staged – in slightly abbreviated, no less charming form – as The Center for Living Arts' Beauty & the Beast Jr. (April 28 through May 6). And just a few weeks before directors Dino and Tina Hayz bring that romantic fairytale to life, they'll take on decidedly edgier subject matter with the area debut of Heathers: The Musical (April 7 through 9), a tune-filled adaptation of 1989's black-comedy classic involving high-school bullying and murders disguised as suicides. Yes, fellow mega-fans: One of the song titles is indeed "My Dead Gay Son." How very.
The practically-perfect-in-every-way Mary Poppins (June 1 through 11) takes flight in a season-opening production at the Timber Lake Playhouse, although the summer-stock schedule actually gets kicked off with a presentation in the theatre's second-annual "jukebox series": the Tony-nominated country-rock musical Pump Boys & Dinettes (May 5 through 14). Meanwhile, if your kids can't quite wait for June to see Mary Poppins in stage action, there's no reason to deprive them of the theatre until then. Based on a story by Ronald Kidd, composer Anthony Plog's interactive children's opera How the Trumpet Got Its Toot (March 17 through 19) will be staged by Opera @ Augustana in the school's new Brunner Theatre Center, while a popular children's-book character is brought to life in the Circa '21 Dinner Playhouse's and director Brad Hauskins' family comedy Big Nate: The Musical (April 20 through May 13).
More musical entertainment can be found at Circa '21 in director Jim Hesselman's current production of the timeless classic The Music Man (running through May 13), with director Warner Crocker's upcoming Snapshots: A Musical Scrapbook (May 24 through July 15) a romantic-comedy collection of beloved compositions by Wicked, Pippin, and Godspell composer Stephen Schwartz. Like The Music Man, movie versions did result from the Depression-era happiness of Annie (April 2) and the Tony-winning rock opera Rent (May 17), both of which are making one-night-only Adler Theatre stops on their national tours.
Although it's not based on the Oscar winner with which it shares a title, five-time Tony winner Titanic (April 28 through May 7) does concern the passengers of that fated ocean liner, and sets sail at Augustana College in a lavish presentation directed by Erin Platt. And while Moline's new Black Box Theatre is currently staging the antics of cherished Peanuts characters in director David Miller's You're a Good Man, Charlie Brown (running through March 25), Miller will also fill the venue with the spirit of Jane Austen in the romance I Love You Because (June 2 through 17), a modern, musical spin on Pride & Prejudice.
But in addition to the familiar shows and subjects on the area's springtime musical/dance dockets, the Center for Living Arts will open its springtime season with 13 (March 17 through 19), an original musical about present-day teen life composed by Tony winner and The Last Five Years composer Jason Robert Brown. Choreography like you've never seen before will be on hand courtesy of the tap-dance masters and Quad City Arts Visiting Artists of BAM! (March 29), whose public performance will take place at the Boys & Girls Club of Moline.
Ballet Quad Cities will debut its latest Lincoln Park performances of Ballet Under the Stars (June 2 through 4) in an outdoor production of old favorites and brand-new vignettes. And speaking of new, if you think the ballet is just about toe shoes and ruffled tutus, think again: Ballet Quad Cities will likely trade them in for chaps and spurs in its Adler Theatre stagings of The Wild, Wild West (April 1), boasting newly choreographed takes on the Aaron Copland ballets Rodeo and Billy the Kid. I'd give nearly anything if one of the dancers, at some point, turns to his or her fellow performers and drawls, "En pointe, y'all!!!"
For more on the area's springtime season of musicals and dance performances, visit the Reader's online Theatre and Dance calendars.