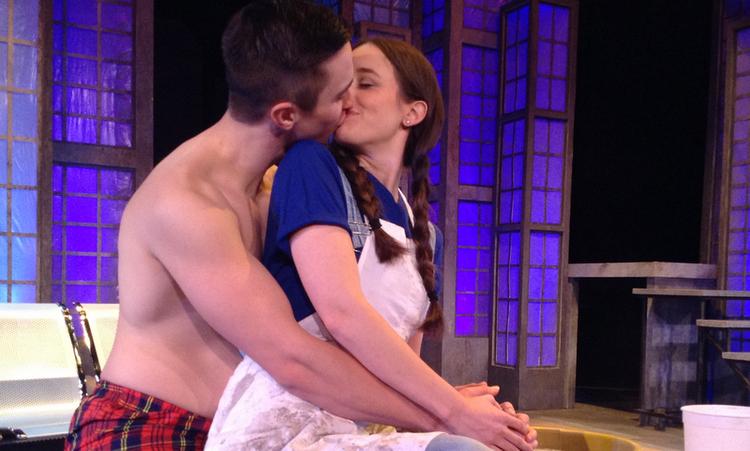 Before the lights went down on January 13's opening night of the Circa '21 Dinner Playhouse's Ghost: The Musical, producer Denny Hitchcock informed the audience of the show's background, telling us that although it was originally produced on Broadway with a cast of 22, this version was scaled down to a cast of 10. But even though this minimized presentation is the story of a ghost, director Jerry Jay Cranford's show is anything but transparent and weightless.
Based on the 1990 film, Ghost tells of Molly and Sam, a young couple very much in love when Sam is mugged and shot to death. His spirit, however, stays on Earth, and with the help of a psychic who can magically hear him, Sam discovers his death was not as random as he originally thought. (Sam is portrayed here by Andrew Keeler, who, with his strong vocals, had perhaps one of the show's more difficult roles, as he had to pretend to be ignored.)
Director Cranford, with his creative blocking and Kathy Voecks' scenic design, made this a very believable production. He does ask the audience to suspend their disbelief a bit by not having actual doors or walls for the set. But this allowed for the reality that Sam could walk through walls as a ghost, which I really enjoyed, completely respecting the lack of awkward fake-knocking on doors that weren't there. The backdrop, meanwhile, featured beautiful pillars that made up a city skyline, and Voecks, technical director Clay Becker, and lighting designer Ron Breedlove made those pillars come to life with multi-hued effects that signified changes of scenery. At one particular moment, the lights even made the whole stage look as if it were moving along with a subway car.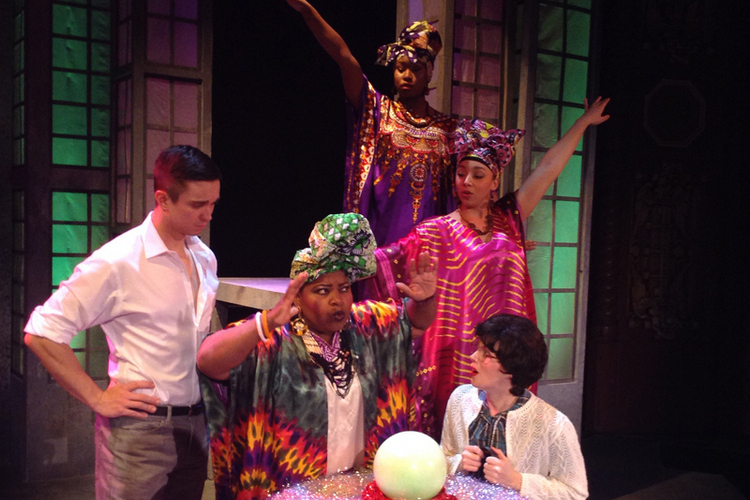 Sam's girlfriend Molly is played by the stunning Samantha Matthews, whose acting abilities are only surpassed by her beautiful singing voice. The chemistry between Matthews and Keeler is palpable from the beginning, particularly during a spicy, iconic scene involving a pottery wheel, and the honesty of their feelings at the show's start carried through for its duration. Matthews also resembles 1990 Demi Moore, and, happily, has a similarly naturalistic presence.
Circa '21 veteran Don Denton is designated bad guy Carl Brunner, Sam's slick, smooth-talking friend who moves in on Molly after Sam's death. Denton delivers just the right amount of charm to make us not immediately suspect  Carl of wrongdoing, and his vocals are always a pleasure to hear, with Denton's rich tones and ease of range always making his singing seem effortless. (Denton's, Matthews', and Keeler's harmonies at the end of Act I gave me goosebumps.)
I've seen few musical entrances quite like that of Illy Kirven's Oda Mae Brown, the psychic who can hear dead people. Kirven is snarky and funny, has impeccable timing and excellent facial expressions, and boasts a stellar voice, to boot. Her first scene finds Kirven with the equally talented Paige Salter as a grieving widow, and between Salter's scripted awkwardness and Kirven's hysterical performance, this scene is sure to leave you laughing. (Greg Hiatt brings the over-the-top Oda Mae even more over-the-top – in a good way – with the character's costume design.) Darrington Clark, meanwhile, makes his Circa '21 debut as an elderly ghost showing Sam the ropes of the afterlife, and although a young actor, he delivers a great older-man characterization and warm, soulful voice.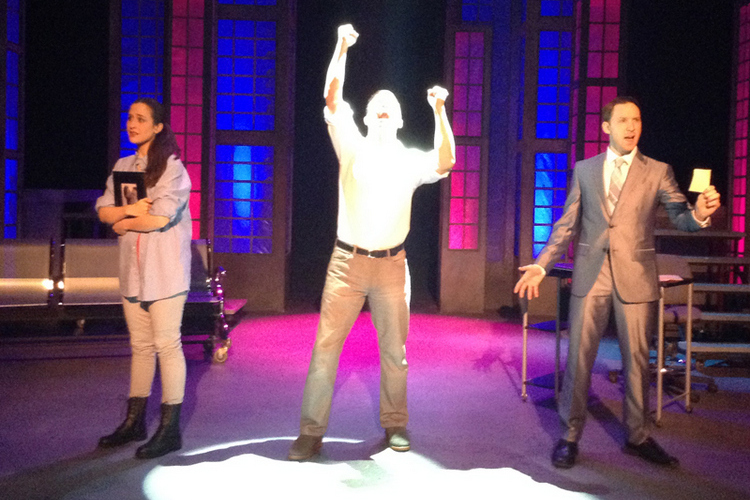 In truth, the only elements that brought me out of the performance were a couple of dramatic scenes that involved gunshots, which, here, were too-quiet recordings that really made the tension fizzle. But I have to say it was a pleasure to see a more contemporary piece at Circa '21. While some considered Ghost: The Musical a flop on Broadway, this reworking and adaptation is a lovely show that focuses on the central love story, and with only one number I didn't particularly care for, there's plenty of beautiful music on hand.
With its book and music by Bruce Joel Rubin, Dave Stewart, and Glen Ballard, every song helps tell the story with a contemporary-pop feel, and the famed "Unchained Melody" even intertwines its way in and out of the themes, only sung in an acoustic, literally stripped-down version as Keeler plays guitar and sings in his boxers. There's also a gut-wrenching song titled "With You" that will have you – even you men – reaching for your napkins to dry your eyes. Ghost: The Musical is a production that Circa '21, director Cranford, and everyone involved should be very proud of.
Ghost: The Musical runs at the Circa '21 Dinner Playhouse (1828 Third Avenue, Rock Island) through March 11, and more information and tickets are available by calling (309)786-7733 extension 2 or visiting Circa21.com.